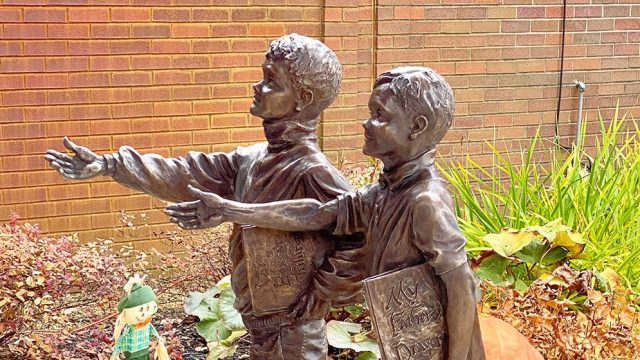 Reynolds – Detroit customer and artist Suzanne M. Young has been creating original religious sculptures for churches, hospitals, and schools throughout the United States and Canada since 1978.
 Suzanne's most recent project consists of a life-size bronze sculpture of two boys holding books under their arms that are enthusiastically leading the way for all to come to the library for greater learning. The original sculpture was fabricated with non-air-drying oil clay over a wood and metal frame/armature. After completion, Brush-On­™ 40 urethane brushable rubber was applied to the clay sculpture. Normally, Suzanne would use fiberglass and epoxy for the support shell, but after a recommendation from Reynolds-Detroit's technicians, she decided to give Free-Form™ AIR™ epoxy putty a try which is easier to use then standard fiberglass and epoxy techniques.  Suzanne loved using Free Form™ Air™ so much that she now prefers Free Form AIR over fiberglass support shells.
 After the mold was completed it was sent to The Fine Arts Sculpture Center foundry in Clarkston where it proceeded through the Lost Wax bronze casting process where it was finished as a 4ft tall bronze sculpture, now permanently installed outside of the Orion Township Library on Joslyn Road.
Her figurative works of sculpture have been in numerous competitions since 1977 and has received considerable awards and recognition for her work.