Colorants, Paints, and Fillers
Choose from numerous colorants made especially for urethanes, epoxies and silicones to let the user color any creation. Industrial-grade scenic design paints are highly abrasion/scratch resistant, UV lightfast and weather resistant. Fillers are often added to casting resins to change the properties of the plastic, lower the weight or achieve a variety of finishes including metal, stone, porcelain, marble, wood, etc.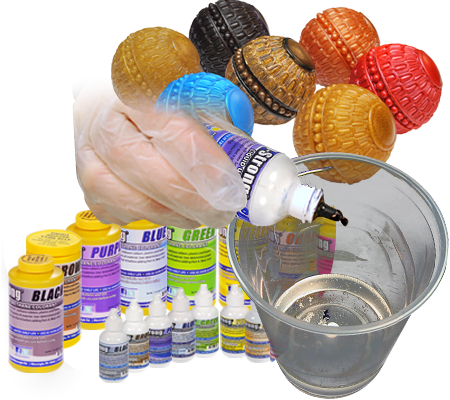 Colorants
Fluorescent pigment for plastic, rubber, and foam
Used for coloring Smooth-On tin and platinum cure silicones
Fluorescent pigments used for coloring tin-cure and platinum-cure silicone rubber compounds
Concentrated tints for coloring urethane materials
UV-Resistant Colorants for epoxy, urethane rubber, plastic or foam.
Paints
Scenic design paint system of industrial-grade paints. No-VOC, water based acrylic-urethanes.
Fillers
A new and easy way to add an endless variety of bright metallic, glitter & color effects to finished castings.
UV Glow Translucent Liquid Additive for Urethanes and Silicones.
Long Lasting Phosphorescent, Glow-in-the-Dark Powders
Add to resin to create metal cold casting effects
Powders used to create realistic stone effects in finished plastic or rubber castings
Fillers for thickening or modifying urethane rubber and resin