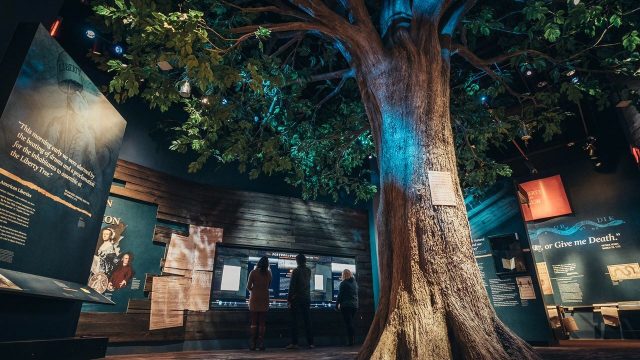 Allentown – We have our spotlight on Scenery First, a Philadelphia company that manufactures scenery, displays, and event décor. The company was recently approached to create pieces for the Museum of the American Revolution located in Philadelphia, PA. We caught up with Jack Doyle the company's founder for an inside look at the exhibit and for a quick Q&A about creating and recreating museum pieces.
To recreate the iconic Wait monument for display, tinted Smooth-Cast 310 urethane resin was poured into a mold of the original. Once the piece was demolded and brought back to the shop, Scenery First's painters added paint treatment to give it the final aged look.
For the Liberty Elm, a range of materials and techniques were used. First, a rigid structure was made and covered in foam. Over the foam sculpture, Free Form Habitat Fire Safe was applied and the bark surface was embossed using Equinox silicone putty stamp pads cast from real American elm bark. The tree was built in pieces and reassembled in the museum.
According to Doyle, "The Museum of the American Revolution project was a challenging and exciting test of our talents and materials. Reynolds products played an important role in bringing the beautiful designs within the museum to life. It was an honor for the Scenery First team to participate in highlighting The American Revolution and its historical significance."
To see more of Scenery First's work visit them online at http://www.sceneryfirstinc.com/