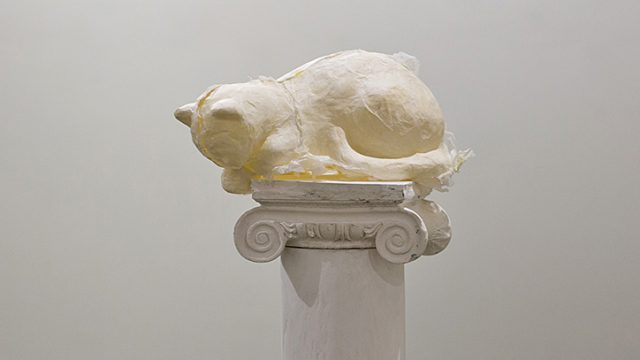 Myra Clark, an abstract and multi-media artist from Portland, Oregon, was looking to create molds and cast pillars as part of her new body of work "The Slow Regard of Hidden Things." Yet, she had never made a mold or done any casting before and came to Reynolds-Seattle to consult on the best process and materials for the project. The staff guided her through each step of the mold-making process, teaching her how to use Rebound™ 25, a brushable platinum silicone rubber that is flexible, strong, and great for making Hydrocal castings. She also learned how to create a support shell with Plasti-Paste™ II, a trowelable urethane plastic to hold the mold's rubber shape when it is filled with the casting material. Back in her studio, she cast 7 Hydrocal pillars and said, "The results are amazing! They are exactly what I had hoped for in developing this show." The work was exhibited in January at Blackfish Gallery in Portland, Oregon. It was a very successful exhibit, and many comments were made about what an oasis it was – a place of quiet and meditation during these pandemic times. The art, materials and space all came together beautifully."
Clark experiments with multi-media installations in her current work, and often focuses on political and social issues. She is a member of Blackfish Gallery in Portland, Oregon, a 43-year old artist-operated cooperative in Portland's Pearl District.
You can learn more about Myra Clark and her work at www.myrawclark.com.