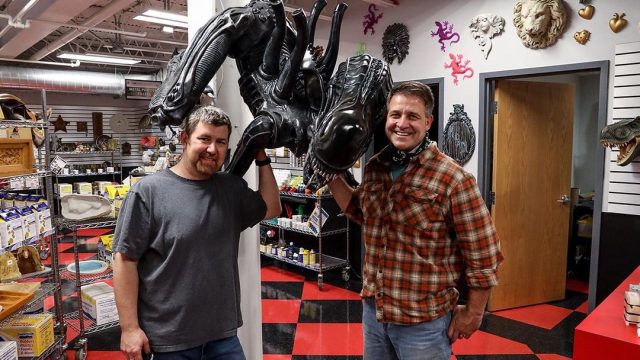 Reynolds Advanced Materials customer Arcana Workshop has been in the fabrication business since 2015 and has worked on an array of unique displays, sculptures and custom fabrications including three full sized Alien displays for Smooth-On and Reynolds Advanced Materials.
In the late Summer of 2020 they fabricated a new Alien statue to be displayed at the Reynolds-Allentown branch, but unlike the first two Aliens, this one was to appear like it was crawling down the I-beam which created a new challenge for the team. Arcana was able to cast all the parts from the existing set of 20-24 molds, but some parts needed significant re-sculpting to create this new, more dynamic pose.   Kyle Sikora of Sikora Studios created a custom steel frame for the alien that holds the alien safely to the beam while maintaining the creative intent.
The Arcana Workshop team, comprised of Tom Baginski, Matthew and Annora Sylvester, Kate Kaufman and Mike Turner, worked hard re-sculpting, blending, painting and provided a lot of creative problem solving to make this project work. 
Arcana workshop used a variety of Smooth-On materials to create this amazing prop including, – Foam-It™ 3, Epoxamite™ reinforced with fiberglass, Mold Max™ 15T, Sil-Poxy, Smooth-Cast™ 325, Epsilon™ Pro, Free Form™ AIR and Super Instant™ adhesive. 
For more from Arcana Workshop visit them on the web at https://www.arcanaworkshop.com/
Visit them on Instagram @arcana_workshop