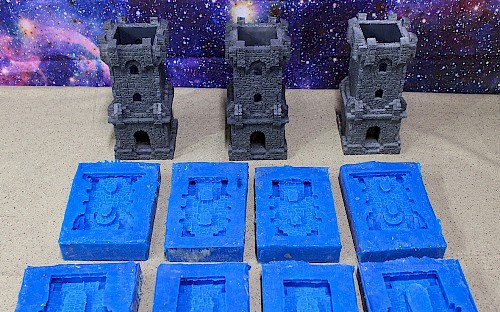 Since 2016, Andy Schiller has been the sole proprietor and sculptor for DrakenStone, LLC, located in Tecumseh, MI.  Also known as The Original Dungeon Artist, Andy creates miniature architecture and figures for table-top roleplaying games. This includes Castles, Forts, Cathedrals, and entire medieval towns. 
For their latest Kickstarter project, the Ultimate Dice Tower, DrakenStone chose Mold Star™ 30 as their best option. "The material is flexible enough to allow finished pieces to be removed easily, even with deep undercuts; and strong enough to be durable through hundreds of pours. The amount of detail we can get from this product makes customer's jaws drop." 
For their castings, DrakenStone uses Smooth-Cast™ ONYX Slow urethane plastic, Feather Lite™ lightweight liquid plastic resin, and Shadow Gray Quarry Tone™. "The result looks just like real granite, right out of the mold. No need to paint! The finished pieces are shatter-resistant, scratch-resistant, and will last a lifetime."
Andy places tiny magnets in each mold, allowing him to drop magnets into the resin during the molding process, which snap into place easily. The magnets are completely embedded and are invisible in the finished pieces.
For their glow-in-the-dark Pet Jelly cube project Andy chose Glow Worm™ Purple, which the customers absolutely loved!
Learn more about DrakenStone at  www.DrakenStone.com