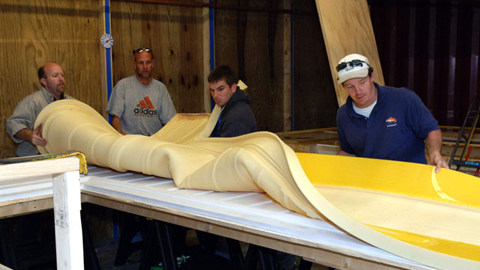 Smooth-On Materials Used As Part Of One Man's Vision To Bring Hope To Residents Of  Storm-Weary New Orleans

Deciding to leave after Hurricane Katrina wiped out much of New Orleans in late August 2005 was an easy choice that many people made. So much of the city was devastated and unlivable for so long. There was no electricity, no running water, and no sewage, supplies were hard to find, and food was scarce. The hard choice was deciding to stay and rebuild what was lost.

Chep Morrison was born and raised in New Orleans and loves this city. He was never one to run away when the going got tough and his philosophy remains to not give up on tough problems. In spite of losing a lifetime of investment in an 80 unit apartment building that was washed away by Katrina and many other difficulties that he and his family experienced after the hurricane, they stayed.
 
One of Chep's many talents is working with his hands. In his college days, he parlayed this talent into a thriving construction business by modifying college dorm rooms. After college, he took on the enormous job of revitalizing a run down 80 unit apartment building in a poverty-stricken neighborhood to begin a 'tenant farming' program. The goal of the program was to raise people out of poverty.
 
Following Katrina, Chep developed a modular casting concept incorporating pre-cast concrete walls to build low income housing structures. One of the many advantages of using concrete is cost. Chep's pre-cast concrete modular panel system is less expensive in terms of total cost (materials, time and labor) vs. other materials.
 
Another advantage is that concrete offers superior wind and water resistance, offering protection against storms as ferocious as Katrina. Concrete also resists the ravages of insects which regularly damage wood structures. 
 
Once his prototype structure is finished, he hopes to sell the concept to the City of New Orleans as a way to offer inexpensive, sound housing that can survive extreme weather to low income families.
 
The following sequence chronicles Chep Morrison's development of his first unit built at the corner of South Saratoga and Felicity Streets in New Orleans. The sequence features Smooth-On's EZ~Mix meter mix machine to mix large quantities of VytaFlex mold rubber. VytaFlex mold rubber was used to make rubber form liners that are being used to cast the modular concrete walls. 
 
Fact from 'US News & World Report' as of July 2008: The population of New Orleans, which dropped from 454,000 to 180,000 after Hurricane Katrina in 2005 has been increasing since and is now more than 300,000.
 
You Will Need: Vytaflex 60, EZ Mix Meter Mix Machine, Kwikee Sprayer, Sonite Wax, Universal Mold Release, Plywood, Form Boards, Concrete, Portable Vibrator
Step 1: Introduction
Shortly following Katrina, Chep Morrison, set up production of VytaFlex 60 form liners that were used to cast concrete tilt-up building panels. The building consists of trucking containers welded together. Although a long way away from the ocean, sea shells were carried miles inland by Hurricane Katrina and are underfoot everywhere.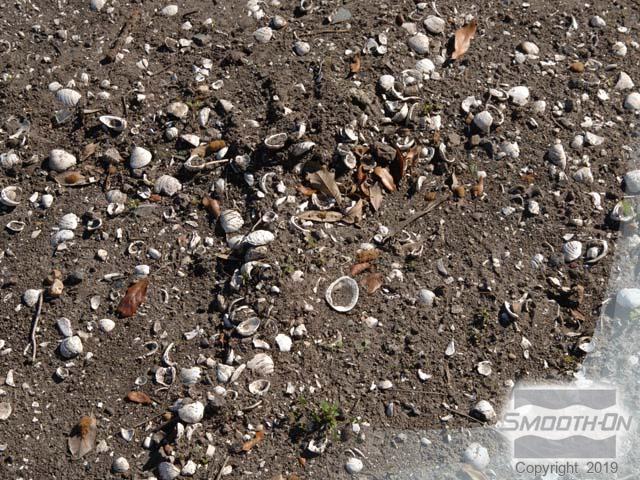 Step 2: Preparing Work Space
Inside working space was limited but accomodated the EZ Mix Meter Mix machine and drum units of VytaFlex 60.
The original model over which liquid mold rubber will be is poured is constructed out of a combination of wood and polyester resin. All decorative details are perfected at this point so they are reproduced each and every time they are cast with concrete. Mold (form) boards are then fastened to the outside of the model and then seams are caulked to prevent rubber from leaking.
Because the original model is made mostly from porous wood, it is necessary to apply a sealing agent. In this case, Smooth-On's Sonite Wax II® is used because it not only seals the porosity on the original model, but does so in a way that does not effect the detail.
In addition to the sealing agent, a release agent is required to facilitate the easy demold of the Vytaflex® 60 rubber from all surfaces. Smooth-On's Universal Mold Release is applied to all surfaces using the Kwikee® Sprayer.
To cut down on the amount of rubber used, ''blockouts'' are incorporated at strategic points along the mold structure. 1'' pieces of plywood are used to make the blockouts, which are fastened to the formboards with screws so they do not float in the liquid rubber.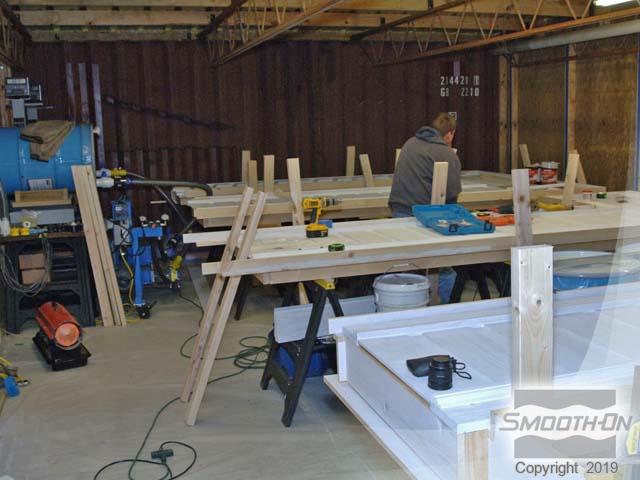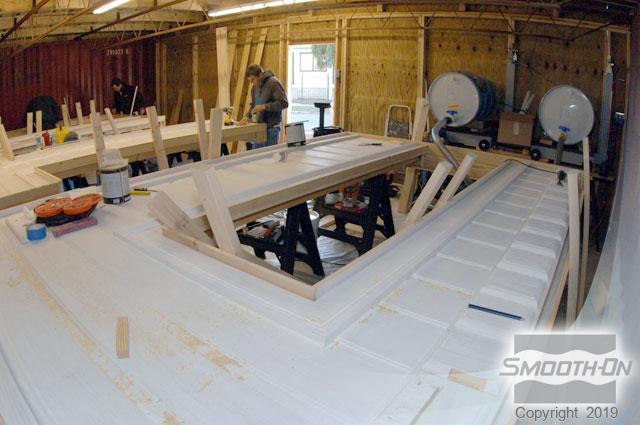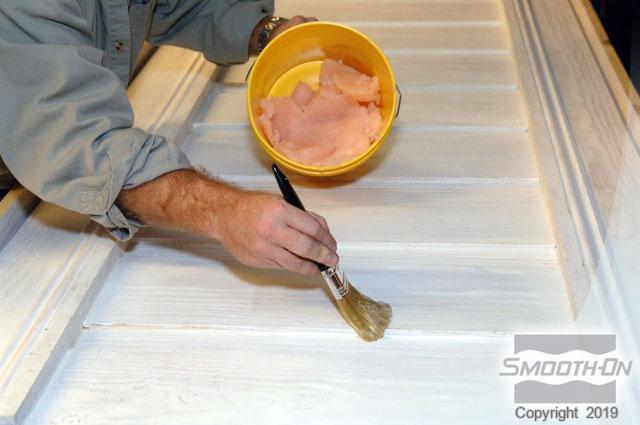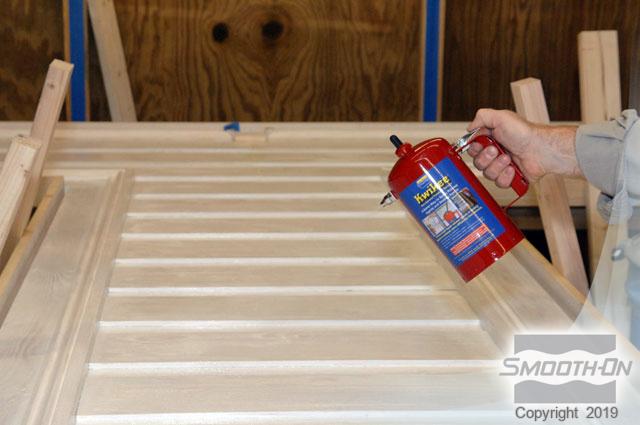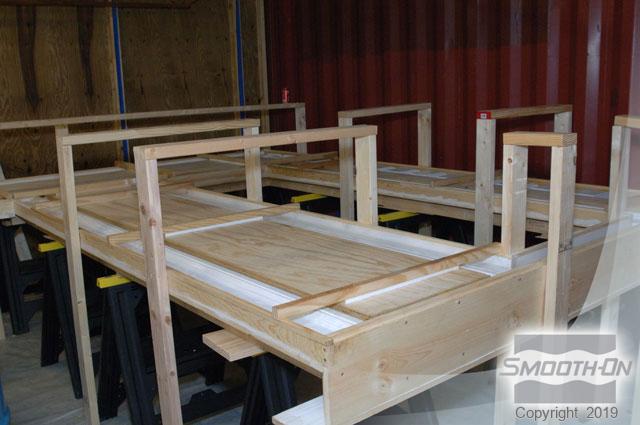 Step 3: Dispensing VytaFlex™ 60
Specifically designed for concrete casting, VytaFlex™ 60 can be used to pour large amounts of concrete without distorting the casting. Having exceptional dimensional stability, the VytaFlex™ 60 will accurately maintain all elements of the original model.
Because of the large amount of rubber required to complete this liner (1500 pounds), the EZ Meter Mix machine is used as a mixing and delivery system for the rubber onto the original model. This machine uniformly mixes the VytaFlex™ 60 at a ratio of 1A:1B by weight. The end result produces a formliner with no air bubbles, making it much more durable and increasing the number of castings that can be poured into it. After proper setup of the EZ Meter Mix machine, it dispenses a small amount of material into a waste bucket. This is done to ensure proper mixing and calibration of A:B ratio.
Filling into the mold box is begun, making certain to dispense into the lowest point. This allows the rubber to naturally seek its own level over the model and displace air while doing so. A minimum thickness of ¾" (1.9 cm) is maintained on sidewalls and over the highest points of the model.
Higher temperatures will cause the rubber to cure faster, cooler temperatures to cure slower, however a minimum of 65F is required to ensure proper cure of rubber. The VytaFlex™ 60 must cure for 16 hours at a temperature of (72F / 23C).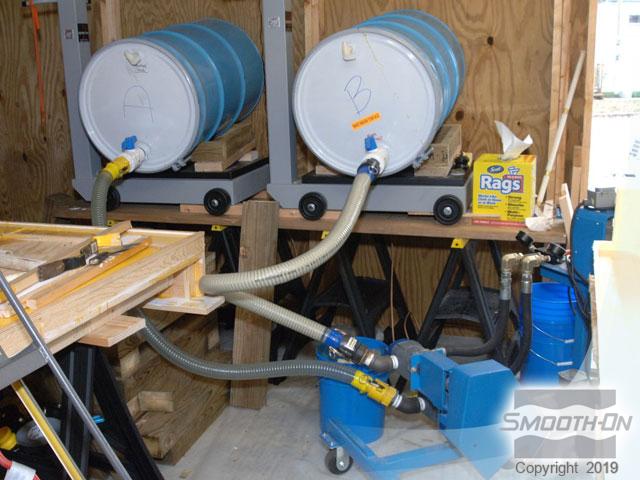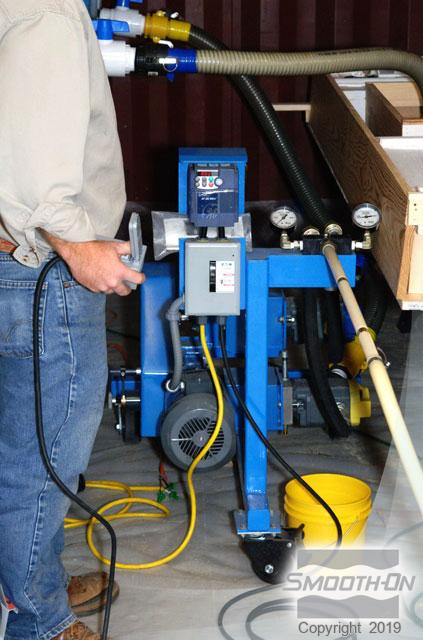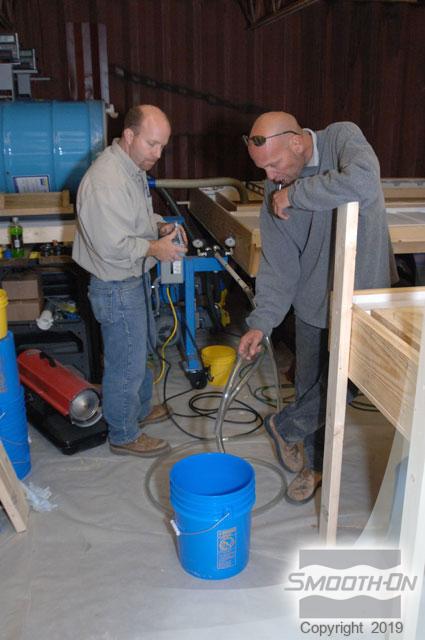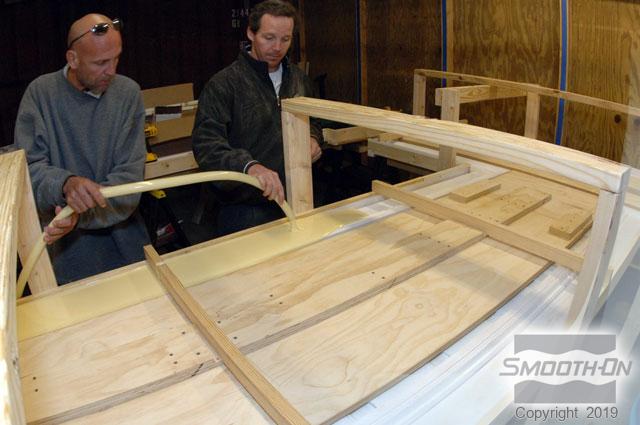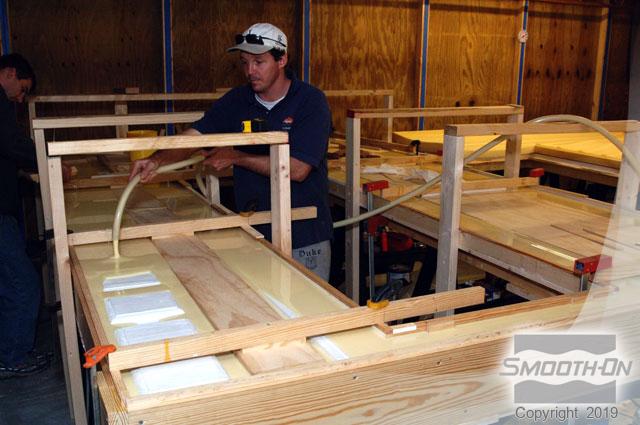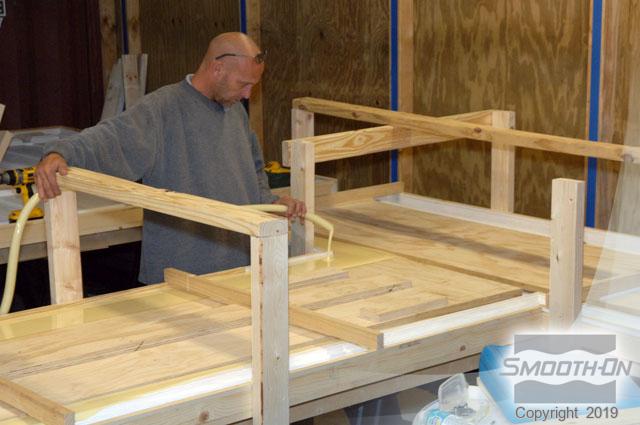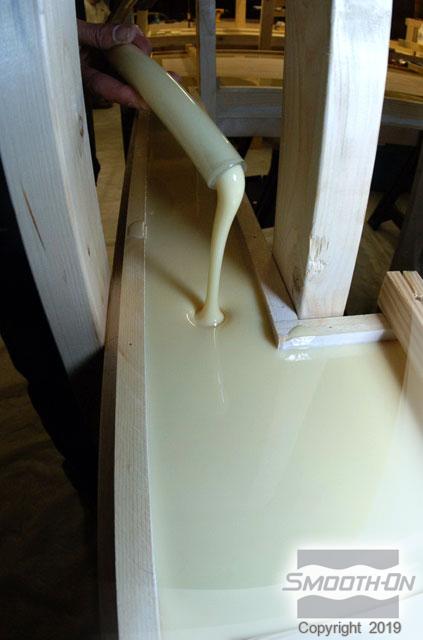 Step 4: Demolding VytaFlex™ 60
After the VytaFlex™ 60 has fully cured, the side formboards and plywood blockouts are carefully removed and saved so that they can be used for the concrete casting process later. The formliner is removed by gently lifting rubber from one corner and alternating to the other while slowly rolling the liner back onto itself. Several people may be required to lift and roll the liner uniformly.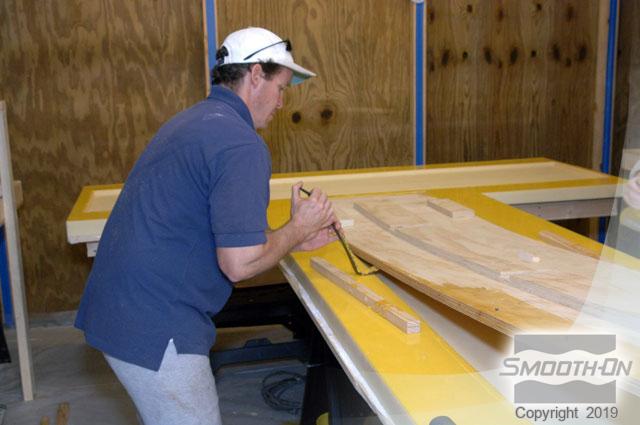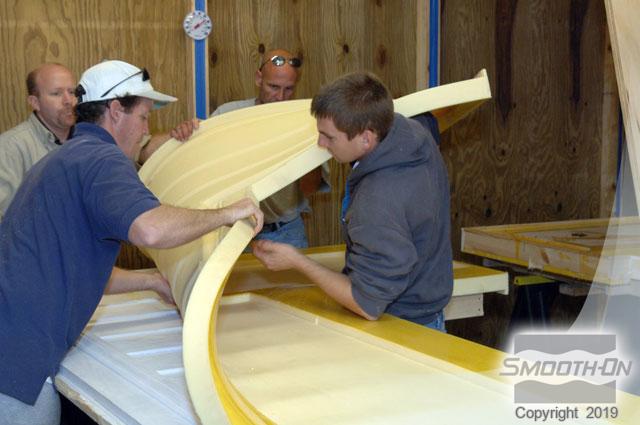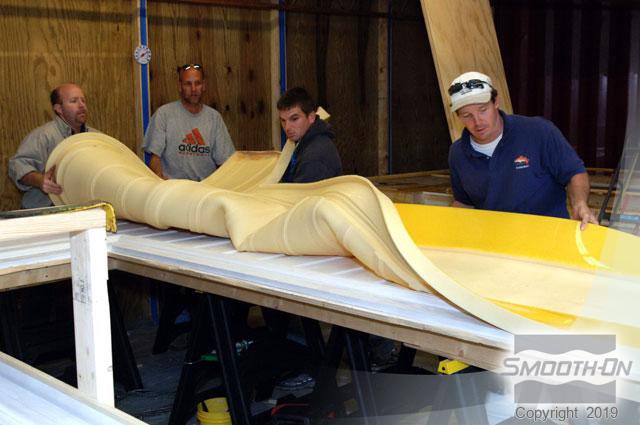 Step 5: Preparing Mold For Casting & Casting Concrete
At this point the formliner can be placed into the wood or steel form that will be used during the concrete casting process. Prior to pouring concrete, a release agent is required to help facilitate demold from the formliner. VytaFlex® 60 mold is ready for casting concrete.
Concrete is mixed and dispensed into rubber mold. Vytaflex® 60 has excellent compression set which prevents the rubber from distorting when large amounts of concrete are poured against it. Wood boards are used to spread the concrete uniformly in the mold. A portable vibrator is used to help eliminate any air pockets in the concrete.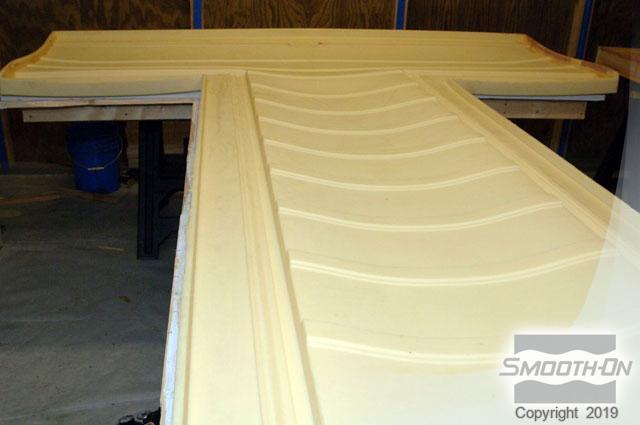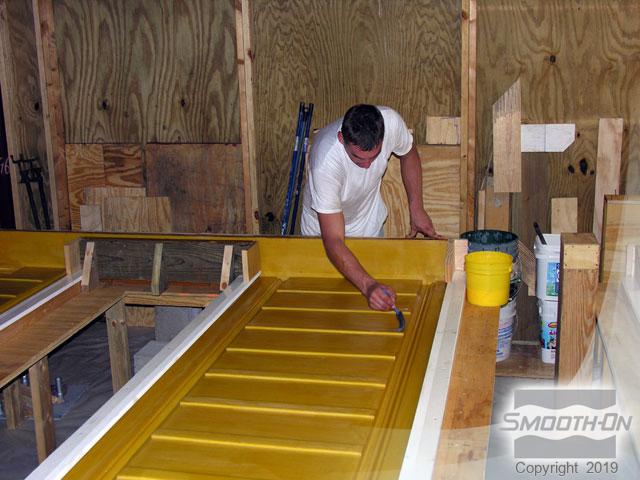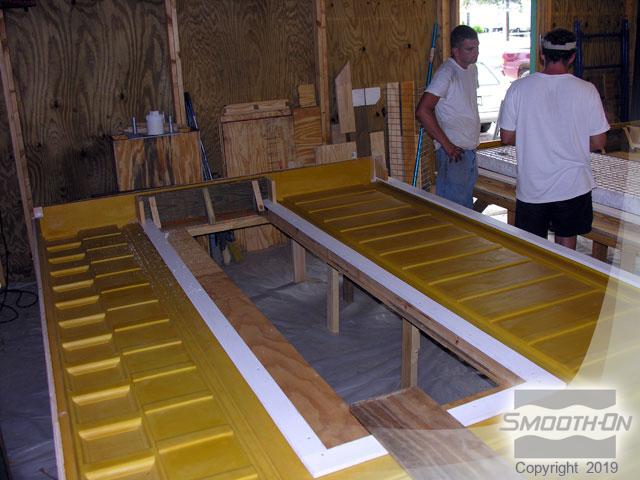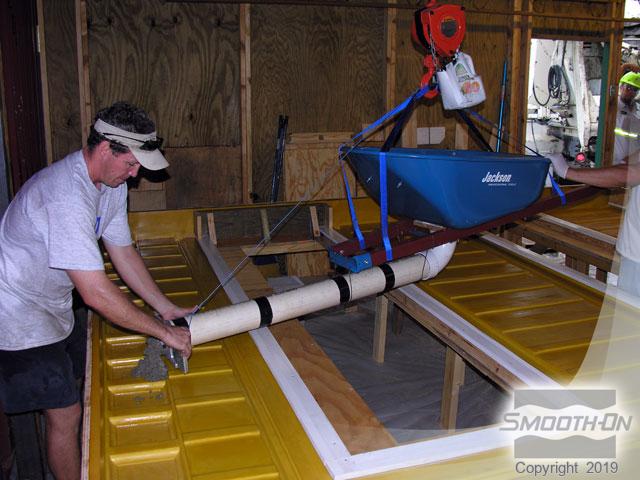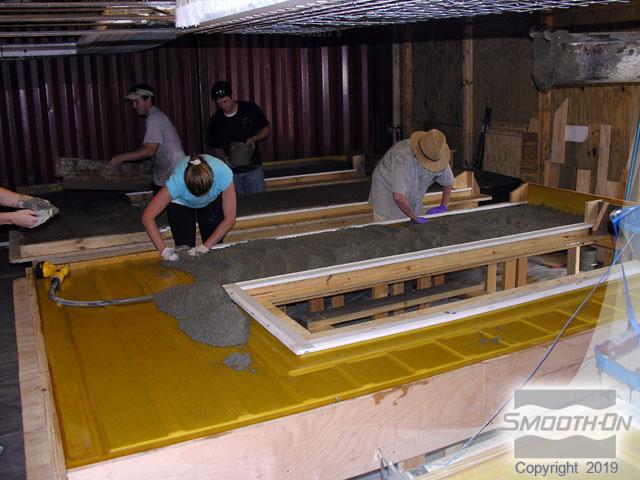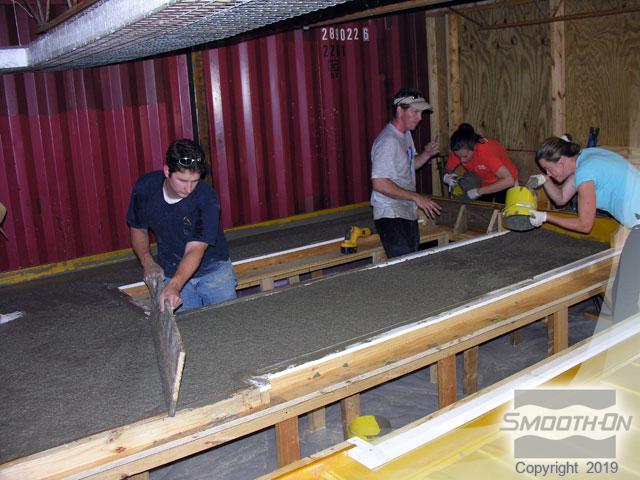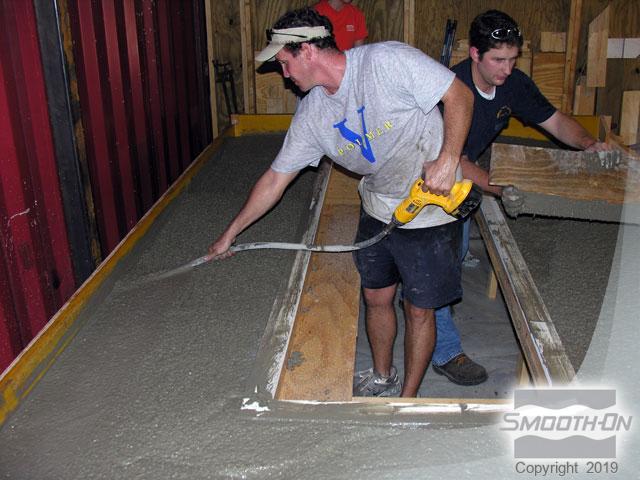 Step 6: Installation Of Concrete Casting
At the corner of Felicity and S. Saratoga, installation of Chep's vision begins.
A concrete floor base is poured and will support the tilt-up panels. Foam board will provide insulation. The concrete panels can quickly be assembled to form new walls and the outside seams disappear with the use of a concrete joint compound.
Intstallation and finishing work goes relatively quickly. The flexible formliner made from Smooth-On's Vytaflex® 60 keeps production moving in the rebuilding of New Orleans house by house. A close up of the concrete casting reveals the wood texture detail captured and reproduced perfectly by the VytaFlex rubber.
To the left, you see New Orleans high rises as Chep and his team take a well deserved rest from the day's labors. When finished, the structure will provide a storm resistant living environment, providing hope for the future of New Orleans.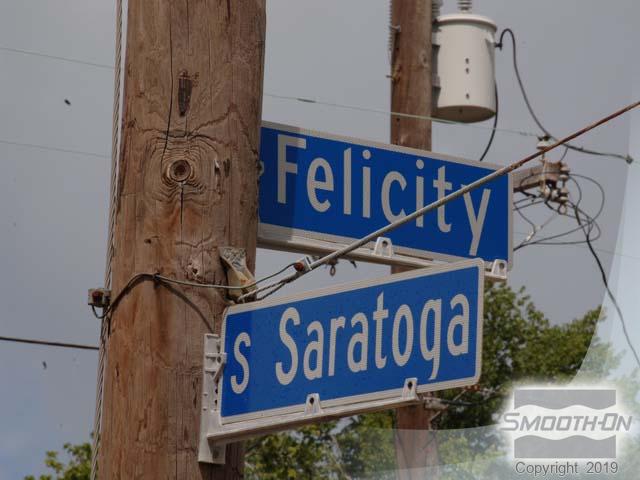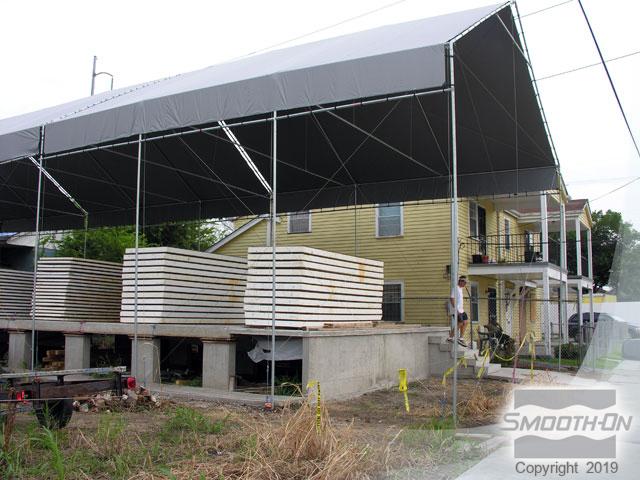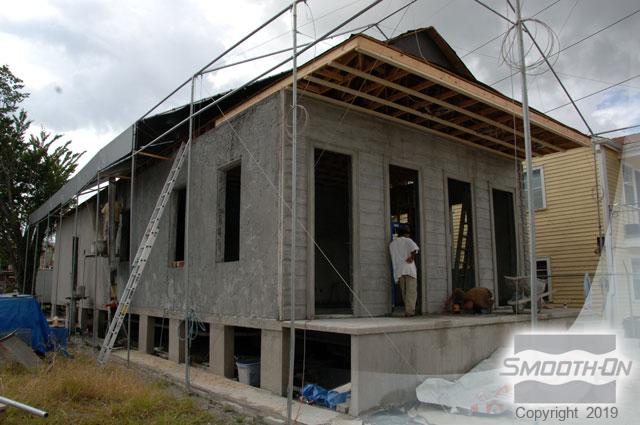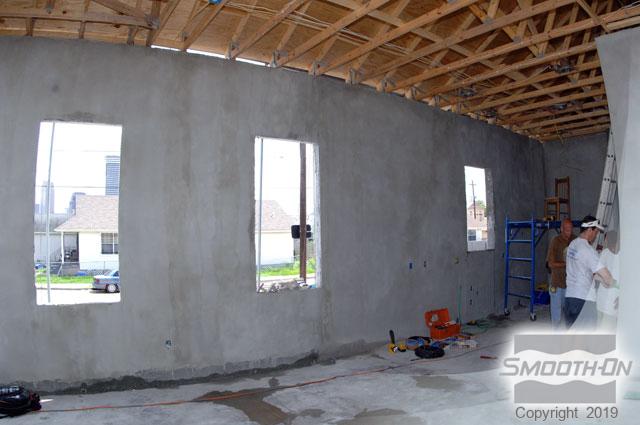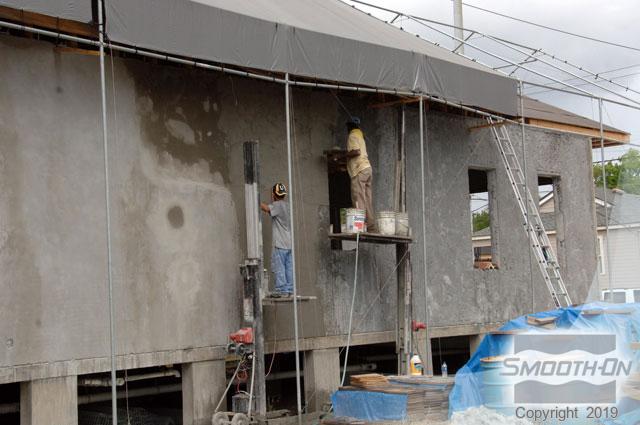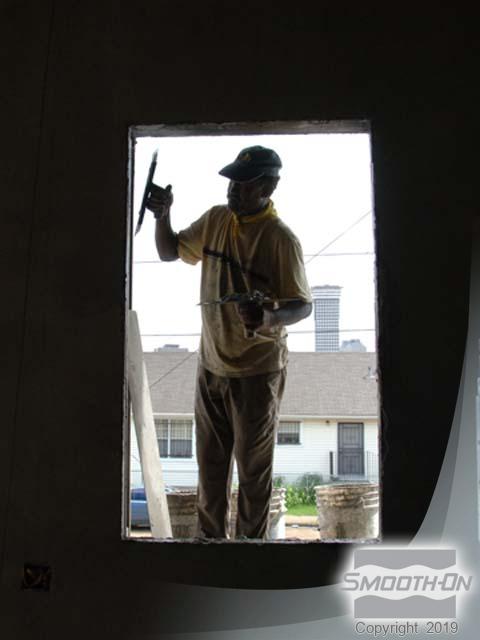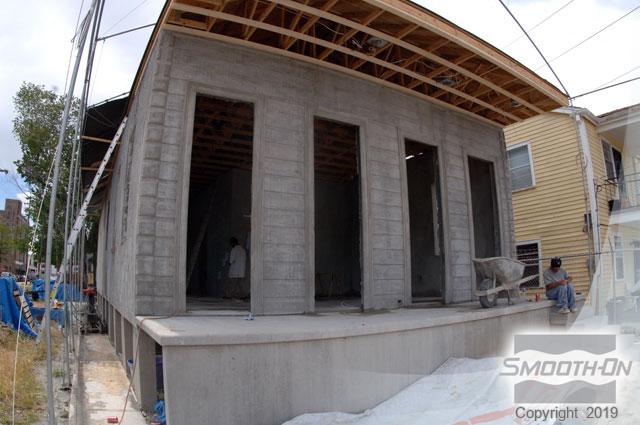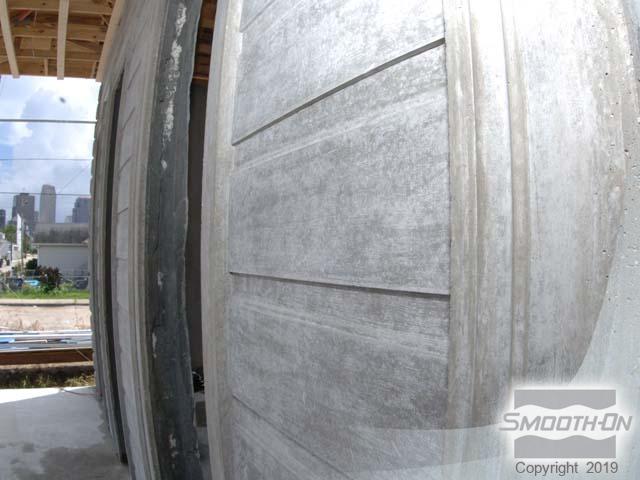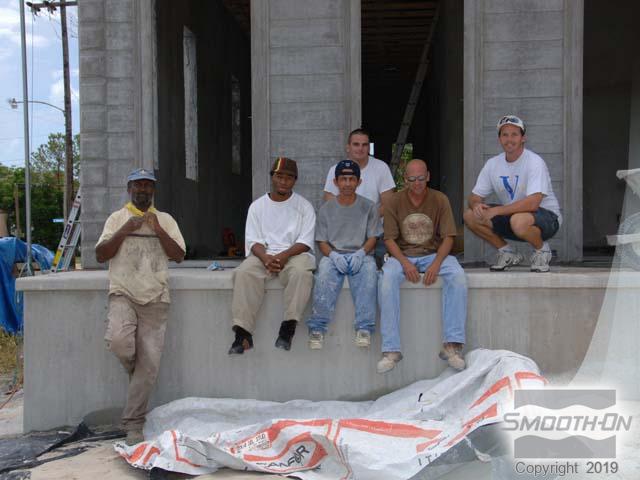 Related Products