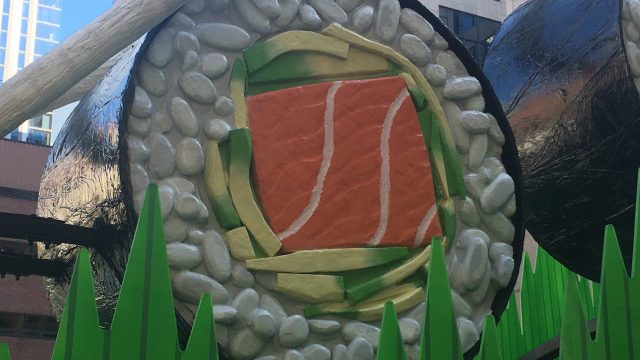 "Successfully activating a large creative project is like launching a rocket to space. It's hard, it's dangerous, but the value of the end result, makes it worth the risk and hard work." – Mike Dunbar, CEO
Illumivation Studios is an innovative company based in Chicago who focuses on creating designs and fabricates pieces for theatres, marketing, museums and more.  
Most recently, Illumivation was hired on by meal delivery service GrubHub; their task, making large sushi rolls to will draw attention for an upcoming marketing campaign. Illumivation knew just what material to use. Foam, and lots of it.
After they captured the essential shapes and contours of the sushi rolls,  they contacted Eric, the outside sales representative for Reynolds Advanced Materials in Chicago. The studio needed to find a material that would cover, seal and protect the foam from the corrosive everyday environments that the piece may endure. Eric immediately recommended Smooth-On's Free Form™ Habitat™ Cast N Coat™ .  After a few small-scale successful tests, Cast N Coat™ was decided on for the full sized pieces. Once the epoxy was applied to the carvedfoam sushi pieces, it was painted and ready for the reveal – below you can see some of the photos of the finished pieces.
To learn more about what Illmination Studios visit them online: Facebook, Twitter, Instagram, and their website.
Free Form ™ Habitat™ Cast N Coat™ is a two component liquid epoxy that can be cast solid or be thickened and troweled onto a vertical surface. To learn more visit here.