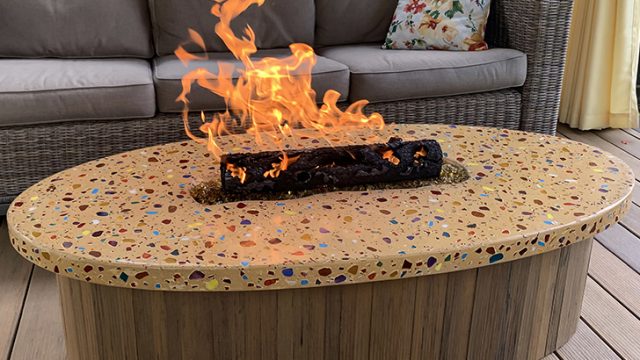 Rick Cortright owner of Gathering Stone Fire Tables, and his son Neal have refined and developed a new process to inlay exotic stone and other aggregates into both their large and small format terrazzo style fire tabletops with the help of Buddy Rhodes Concrete Products and Reynolds Advanced Materials in Detroit.
Rick and his team choose the most beautiful and natural stone materials that they can find including, Petoskey, jasper from Arizona, mother of pearl and granite. The materials are then used in conjunction with Buddy Rhodes Pigments, GFRC blended bag mix, A/R scrim and Bone Paste to create a variety of unique finishes and continue to experiment with their process, including welding raw steel pipes into the decorative centerpiece logs.
"My hat's off to the team at Reynolds Advanced Materials in Detroit and HQ. We had never used Buddy Rhodes Concrete Products a year ago, but the Reynolds team and the Buddy Rhodes technical assistance line have helped to steer us in the right direction". – Rick Cortright
The underlying message and goal of Gathering Stone Fire Tables is to bring family and community together while adding beauty and excitement to customers outdoor living.
You can visit Gathering Stone Fire Tables website at: gatheringstonefires.com
On Instagram: @gathering_stone_fire_tables
And on Facebook: www.facebook.com/GatheringStoneFireTables