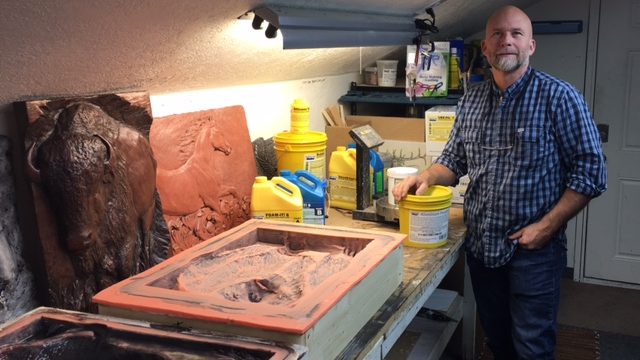 "The thrill of taking an idea and concept and molding it into something that is tangible; that thrill never gets old." – Brett Curtis.
Reynolds Advanced Materials in Denver is excited to have discovered and is honored to introduce craftsman and artist Brett Curtis and his company Stampede Studios. Brett, for the past 25 years has been a mechanic in a body shop and has always enjoyed working with his hands. He found in his spare time that he likes to sculpt using clay, as he feels it is a natural transition.

While only Brett's friends and family knew about his hidden talents, we asked if we could share his story. Brett is a self-taught artist. He has learned through books and videos on the internet and nothing has been easy along his journey. Once he found that wall reliefs were his niche, he called Reynolds Advanced Materials in Denver.
Reynolds has helped suggest materials and provides technical support through his beginning stages of mold making and casting. Using Smooth-On materials exclusively, Brett finds that Rebound™ 25, Smooth-Cast™ 325, and Metal Powders have been the best fit. "The most valuable information has been the conversations by phone with the support team to understand the characteristics and which product would best suit me," Brett noted.
To learn more about Brett's artwork, take a look at his Facebook page here.