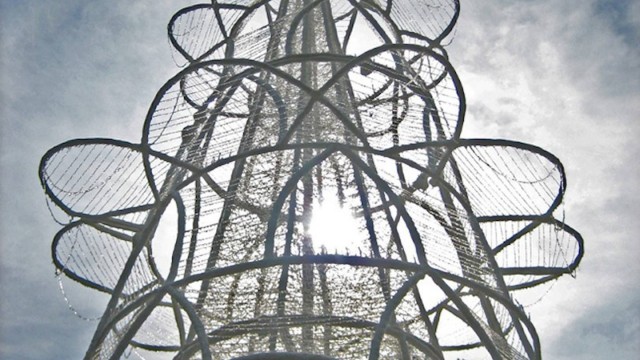 This amazing sculpture was created by Reynolds Boston customer Esther Solondz. Sorta-Clear silicone rubber was used to coat the wires of the structure, creating a truly ethereal look.
From the website:
"The Hummingbird Palace is a large outdoor sculptural installation that is made to change and evolve over time. The piece addresses the issues of fragile systems and how they might interact with one another. The basic idea of the piece is simple; A sculptural structure was constructed upon which flowering vines will grow. The vines will alter the structure while simultaneously attracting hummingbirds.
The Hummingbird Palace begins with an ethereal structure made primarily of thin welded steel rod, translucent threadline, epoxy putty, clear silicon rubber and urethane. It's appearance is that of a sugar structure covered with weblike drips. The size of the structure is 15 feet high. It is enclosed in a boundary fence for visual and safety purposes.
After the structure was installed, flowering vines – both perennials and annuals – were planted at its base and along the inside of the boundary fence. The whole structure, with it's many horizontal and vertical threadlines will serve as a perfect support for the vines to grow up and through.
The vines selected are plants that are great attractors of hummingbirds. Grow it and they will come. Additionally, 10 tiny hummingbird feeders have been placed atop the poles of the boundary fence. As there have been marked stresses on hummingbird habitat in recent years, it will be an auxiliary benefit that the piece will highlight the wonder of hummingbirds and the need to provide them with habitat.
The Hummingbird Palace will be left to evolve indefinitely. Visitors can walk by and around the Hummingbird Palace over a variety of seasons and years, enjoying its evolving nature as it unfolds."
Visit http://thehummingbirdpalace.squarespace.com/ or the Facebook page https://www.facebook.com/pages/The-Hummingbird-Palace/1513313315557619 for more information on this amazing project!