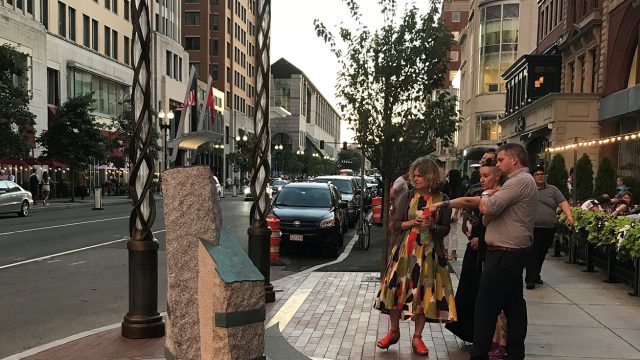 After 4 years of care, thought and revisions beautiful bronze and glass light spires surround granite pillars to memorialize the victims of the Boston Marathon bombing on Boylston Street in Boston Massachusetts. Artist Pablo Eduardo, Ross Art Studio and Sincere Metalworks worked closely with the families of, Martin Richard, Lingzi Lu, and Krystle Campbell to create a proper memorial to remember the victims. Mold Max™ Stroke was used primarily to create wax castings of the sculptures so they could be cast into bronze and then assembled.
The memorial is 2 pieces almost a city block a part featuring pillars made of granite and is surrounded by large bronze and glass spires that glow, lighting up Boylston Street. The design took elements of the architecture from around the city as well as locally sourced materials such as granite from sites that were significant to the victims. Set into the sidewalk are two bronze bricks with the badges and names of the police officers that were killed in the bombing. MIT police Officer Sean Collier who was killed by bombers in the d
ays following the marathon and Boston police Sgt. Dennis Simmons, who died in 2014 after sustaining a head injury from a gun battle with the two bombers.
This beautiful memorial will continue to be an inspiration to the residents and visitors of the city for generations to come.